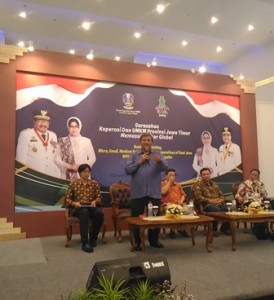 Pengusaha dari Amerika Serikat yang bergerak di bidang industri makanan dan minuman (food and beverage/F&B) serta furnitur menjadi narasumber bagi lebih dari 150 peserta sarasehan bertema 'Koperasi dan UMKM Provinsi Jawa Timur Memasuki Pasar Global', yang diselenggarakan di Surabaya (8/10) lalu.
Para pengusaha yang umumnya berbasis di Los Angeles, Amerika berbagi tips dan saran tentang upaya bagi Usaha Mikro Kecil dan Menengah (UMKM) Jawa Timur dalam menembus pasar AS. Salah satu importir makanan dan minuman asal Indonesia yang telah sukses mendistribusikan berbagai produk kemasan yang menarik. Berbagai produk F&B Indonesia seperti mi instan, sambal, kerupuk, makanan ringan dan minuman kemasan kini sudah dapat ditemui diberbagai jaringan supermarket di California Selatan.

Di bidang furnitur, pengusaha AS yang diwakili oleh American Furniture Manufature dan D'Art Collection menyampaikan perlunya ketepatan waktu pengiriman dan sasaran pasar serta kualitas yang harus selalu dijaga. Amerika Serikat dengan empat musimnya juga menjadi hal penting yang harus diperhatikan dalam menjaga kualitas produk. Saat ini, furnitur Indonesia seperti kursi, lemari dan berbagai furniture untuk indoor maupun outdoor telah masuk ke toko-toko retail dan menghiasi hotel-hotel serta resort yang ada di Amerika.
Dalam siaran pers yang diterima redaksi Kabari, Konsul Jenderal RI Los Angeles, Umar Hadi memaparkan beberapa kiat untuk menembus pasar Amerika. "Dua hal yang terpenting dalam menembus pasar Amerika adalah perlunya produk yang berkualitas dengan harga bersaing mengingat pasar yang kompetitif dan juga keaktifan untuk mencapai standar yang harus dipenuhi," ujar Konjen Umar Hadi dihadapan para peserta sarasehan.
Konjen Umar juga mengungkapkan masih tingginya peluang ekspor UMKM Indonesia ke pasar AS di berbagai bidang, khususnya F&B dan furnitur. Saat ini furnitur masih berada di peringkat ketiga ekspor Indonesia ke AS yang melalui pintu masuk Los Angeles dan sekitarnya, di bawah garmen dan alas sepatu. Untuk itu, Konjen Umar menegaskan komitmen KJRI Los Angeles dan International Trede and Promotion Center (ITPC) Los Angeles untuk memfasilitasi para UMKM dalam menembus pasar yang terbuka tersebut.
Acara sarasehan UMKM tersebut dilaksanakan dalam rangkaian kegiatan Jatim Fair ke 7 yang diselenggarakan atas kerjasama Dinas Koperasi dan UMKM Provinsi Jawa Timur. Di sela-sela acara, para pengusaha dari AS juga melakukan business matching dengan UMKM Jawa Timur, dimana para UMKM diberi kesempatan untuk langsung memperkenalkan produk-produknya dan menjajal upaya ekspor ke distributor AS.
Para pengusaha dari AS, yang diantaranya juga merupakan warga Indonesia yang sudah lama menetap di AS, sebelumnya juga telah melakukan kunjungan ke beberapa UMKM di Sidoarjo untuk melihat langsung pengolahan produk sekaligus membagikan pengalaman. Setelah Surabaya, para pengusaha menuju Jakarta untuk mengikuti Trade Expo Indonesia ke 31 yang berlangsung pada 12-16 Oktober.